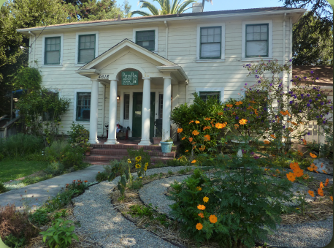 The Peter Pan Cooperative Nursery School is a play-based parent cooperative located in Oakland, California. Since 1947, we have been providing a community, a neighborhood, and an extended family in which parents and children can grow and learn together in a diverse, nurturing, and flexible environment.
Peter Pan lives in "Maxwell House," located on the grounds of Maxwell Park (4618 Allendale Avenue, east of High Street in Oakland, not far from Mills College). We are licensed for children from two to six years of age and have a ratio of four children to each adult. Our students do not have to be toilet trained.
We follow the OUSD school calendar and holidays, with a school day that begins at nine and ends at noon. An optional PM program is available from noon to 2:45.
To learn more about us, please follow the links above or click here to learn about our philosophy, activities, tuition, or membership requirements and enrollment process.
Peter Pan is a non-profit, parent-run organization affiliated with the California Council of Parent Participation Nursery Schools. We welcome families of diverse racial, cultural, and socioeconomic backgrounds.
Your donations are tax deductible! You can support Peter Pan by contributing directly through PayPal:
or by setting up a monthly donation: